Conroe Floor Refinishing
When you notice that your floors are slowly losing their luster and feel, you may be wondering what can be done to give them new life. Some may consider having the entire floor replaced completely, while a few would just leave it as it is. If you decide to leave a troubled floor be, it may become a safety hazard in the future. Meanwhile, if you get it replaced entirely, you'll have to face a costly endeavor.
Fortunately, if your floor doesn't have any major damage, you may still give it a new life through floor refinishing. With refinishing, the floor's existing finish is removed and replaced with a fresh coat, giving a modern new look and feel. This is a more affordable solution than floor replacement; plus, you get to keep your unique floors.
If you need a trustworthy Conroe, TX floor and cabinet company to do Conroe floor refinishing services for your floors, reach out to us at Houston Cabinet & Hardwood Restoration. Our team can check your floors' condition and give them a new coat at an affordable rate.
Call Houston Cabinet & Hardwood Restoration at (281) 603-4601 for your Free Consultation!
Damaged Wood Floor Refinishing
If your floors are slowly showing their age and use, don't despair.
At Houston Cabinet & Hardwood Restoration, our floor refinishing service can give your floors some TLC and get your floors looking brand new quickly and efficiently at an affordable price. Our experts will visit your space, assess the damage, treat and remove the damage carefully before adding an almost odorless sealant and using our unique techniques for faster curing.
When you call our team, we can refinish any floor in any condition, contrary to some homeowners' belief that refinishing is only suitable for floors with minor damage. Throughout our experience, we have refinished all kinds of floor damage and restored them to look good as new.
We can also update and refinish any wood floor type, including cork or bamboo. We use sustainable and hassle-free techniques to remove the damage on your floors and also keep everything clean. As a result, homeowners can use their rooms immediately after we are finished refinishing their floors.
Innovative Wood Floor Refinishing Process
When it comes to our Conroe floor refinishing service, you won't need to wait to achieve your ideal floor style and put it to use. We use an innovative, affordable, safer, cleaner, and faster system than other floor refinishing techniques.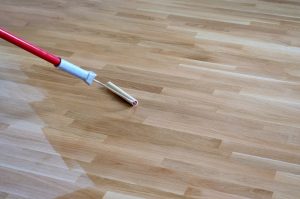 We do not need to sand your wood floors to achieve the look you want and repair them. Thanks to our unique process, we can refinish your floors faster without sanding, and there's no need for more people to run around your space to get everything done. We also use low-odor and safe chemicals to cure your floors, which dries faster than traditional methods.
As a result, you can get your space working again after we finish curing. With older wood curing methods, wood floors can take up to a week after refinishing before the space can be used again, and that old curing chemical is very toxic, making it hard to breathe in the area and can be dangerous to the people who are in the space.
Our unique services are both faster and safer. Houston Cabinet & Hardwood Restoration is your best choice if you want the best floor refinishing team in Conroe.
Let's Talk Now – Free Consultation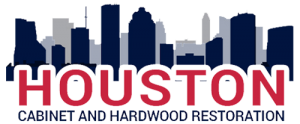 Why get your floors replaced completely if you can just refinish them to have a fresher look and feel? With our Conroe floor refinishing service, you can be certain that you won't spend a lot of money on making your floors look good as new. We can even give you tips to keep them maintained, plus check your floor health to see if it is time for a refinishing or not.
Call our hotline today to find out more about our services, and our team will be on your case!

Call Houston Cabinet & Hardwood Restoration today at (281) 603-4601 for your Free Consultation!