Atascocita Cabinet Refinishing
Renovating kitchens and bathrooms doesn't really cost that much if you know the best budget-friendly ways to update them. At Houston Cabinet & Hardwood Restoration, we can reduce your renovation costs while maintaining your high standards by giving your cabinets a new life through cabinet refinishing.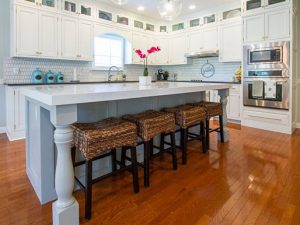 Houston Cabinet & Hardwood Restoration is a Atascocita, TX cabinet and flooring company committed to helping homeowners get the style they want for their kitchens and bathrooms without having to spend too much. If your space still has functioning cabinets, we can easily customize them without completely replacing the cabinets.
Our cabinet refinishing experts will guide you through the process. Even though you didn't get new cabinets for your space, your refinished cabinets that you will end up with can still accommodate your needs, style, and budget as efficiently as possible.
No idea of what you want for your project? No problem! Our experts can explain each option to you and help you pick the best one to suit your unique needs.
Call Houston Cabinet & Hardwood Restoration at (281) 603-4601 for your Free Consultation!
Kitchen Cabinet Refinishing
Kitchen renovations are one of the first things homeowners tackle when they want to give their homes an upgrade. However, it is costly and it can be quite inconvenient to get new cabinets placed in your home since you may have to guy out your kitchen and even change its layout.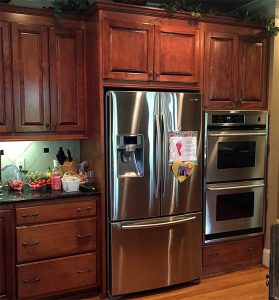 Fortunately, at Houston Cabinet & Hardwood Restoration, you don't have to worry about the cost and inconvenience kitchen renovations usually come with. Whether your kitchens have old cabinets or cabinets beyond saving, we can provide you with the kitchen cabinet solutions that will transform your kitchen's image from an outdated one to a fresher style.
If your cabinets are still functional, we can refinish them or give them new doors to match your style requirements. With Atascocita cabinet refinishing, you won't have to spend too much money on new cabinets and still get the stylish cabinets you need. We can even customize them to make them more functional and ensure that the countertops, backsplashes, and other hardware match your overall design.
Let our team show you how it is done and re-envision your kitchen completely.
Bathroom Cabinet Refinishing
Our Atascocita cabinet refinishing service also includes bathroom renovations for people who want to change their bathrooms' style and give them more functionality. It is best to have bathrooms that can give you a sense of peace, and with our help, it can be done without spending too much.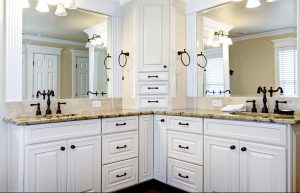 We can update your bathroom's fixtures and cabinets to improve its style and match the space you have. With high-quality and durable cabinet refinishing and accessories, we can revitalize your bathroom and make it ideal for your style.
We offer a variety of options for redooring and refacing, as well as new cabinet replacements in case your existing cabinets can no longer be repaired. If you are on a budget, we can direct you to affordable options that will last a lifetime and match your style and needs.
Cabinet Renovation Benefits
Refinishing cabinets is much more efficient if you are looking for a way to revitalize your cabinets without a lot of hassle. If your cabinets are still usable and could use some updating, it is a better option to improve them rather than replace them completely.
Here are the other benefits of cabinet renovations:
1. You do not have to buy new ones.
It can be difficult to find the perfect cabinet to replace your existing cabinets, especially if you are on a budget. Cabinets nowadays come with very high price tags, especially if you are after a specific material and style. They must also match your current space and last as long as your existing cabinets.
2. You will save a lot.
As mentioned above, buying new cabinets can be very expensive, especially if you get high-quality ones. Refinishing would cost a lot less, and you can still achieve the style you want.
3. You can design your space without spending too much.
Refinishing can help you reimagine your space, even if you are on a budget. Some small changes here and there, and it will be as if you purchased them as a customized piece from the shop.
4. It will increase its lifespan.
With the help of refinishing, you will be helping your cabinets have a longer lifespan. Refinishing will add new protective layers for your cabinets so that they last a long time.
5. It's faster than refacing or replacement.
If you want to use your space immediately, refinishing is your best option. Restoration, although cheaper than replacement, will need to use several methods to achieve the look you want.
If you want to learn more about our cabinet refinishing service or want to ask about it, our team can answer your questions easily. Our team will give you a quick and easy to understand guide about the process through our free consultation service.
Let's Talk Now- Free Consultation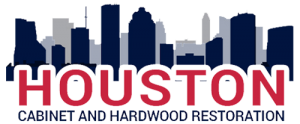 When it comes to getting the best Atascocita cabinet refinishing services in the area, you won't go wrong with Houston Cabinet & Hardwood Restoration.
We are confident that you will get the best service each time you ask our team to refinish your cabinets. We use only the best materials and techniques to make your cabinets durable, functional, and attractive. You won't regret entrusting your cabinet refinishing project with us!
Call Houston Cabinet & Hardwood Restoration today at (281) 603-4601 for your Free Consultation!