Humble Cabinet Refacing
Don't want to spend a lot of money trying to give your bathroom or kitchen cabinets a new life? You may want to consider getting them refaced.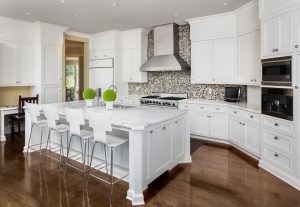 If you did not purchase a custom built home, there is a big chance the cabinets in your kitchen and bathroom do not match the style that you want. In some cases, they are not as practical as you want them to be. While many people spend a lot of money purchasing new cabinets to get their preferred style and function, you don't have to break the bank in order to enhance your own.
At Houston Cabinet & Hardwood Restoration, we can provide you with the best Humble cabinet refacing solutions available to reface existing cabinets and make them look 100% different for a fraction of the cost. We make sure they fit your space and style requirements, as well as customize them for an added benefits.
Call Houston Cabinet & Hardwood Restoration at (281) 603-4601 for your Free Consultation!
Cabinet Refacing Vs. Replacement
Before you consider getting a Houston cabinet refacing service for your home renovation project, it is best you know why it is better than cabinet replacing.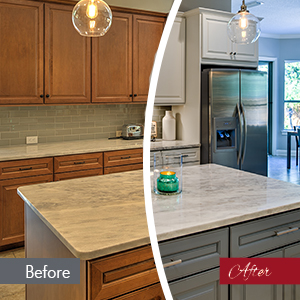 Cabinets are one of the most expensive pieces a person can buy for a house as they have to be customized match all of the owner's requirements. Although new cabinets can make a space look brighter, replacing every cabinet in your home can be very expensive.
Cabinet refacing is much cheaper and will use the existing cabinets in the process. To give them a new look, the doors will be changed to suit your style, and the cabinet boxes will be cleaned and modified to suit your needs. Once the doors are purchased, they will be fitted to your cabinet box and finished with matching hardware.
As your trusted Humble cabinet refacing experts, we can guide you through the various options available for refacing and refinishing your cabinets. We make sure that they are personalized to match your needs and stay within your budget.
Cabinet Refacing Options
People often look into the cabinets immediately when they see your kitchen. With this in mind, you need to show that your cabinets look great on the outside.

But, you will also need to improve what is inside your cabinets to make them look presentable to everyone. Your cabinets have to be organized and functional, enabling everyone to use them more efficiently and give you more time to enjoy the space. It also reduces the time you need to search for the stuff you need from the cabinets.
When you reach out to our team, we can help you pick the best add-ons for your refaced cabinets. Some of the solutions we can provide you are as follows:
1. Built-in Trash Bins
2. Lazy Susans and Pull-Outs
3. Base Organizers
4. Spice Racks
5. Pull-Out Shelving
6. Under Sink Organizers
7. Upper Cabinet Organizers
8. Drawer Inserts
9. Pantry Organizers
We can also add new functions and add-ons to your bathroom cabinets. Our team can check what you require for these cabinets and adjust them accordingly.
Let's Talk Now- Free Consultation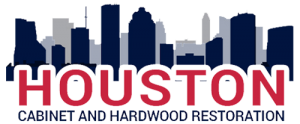 You don't have to spend a lot of money just to get your cabinets in the right shape. By getting our Humble cabinet refacing service at Houston Cabinet & Hardwood Restoration, you can give your cabinets a new life and style to match your needs without breaking your budget.
We are a Humble, TX cabinet and floor company you can trust for this type of project, and when we are done, you won't even be able to tell that you are using your old cabinets because of how well they will perform for you.

Call Houston Cabinet & Hardwood Restoration today at (281) 603-4601 for your Free Consultation!